Browser Extension
To simplify performance testing, ⚡️ SpeedVitals also offers a Browser Extension. The Extension lets you perform a test from the Web Page itself without first visiting SpeedVitals.com.
Our browser extension supports both the Web Vitals Test & TTFB Test.
Browser Support​
Here's the Browser Support for the Extension:
✅ Google Chrome
✅ Mozilla Firefox
✅ Microsoft Edge (Chromium)
✅ Brave
✅ Opera (Chromium)
✅ Most Chromium Powered Browsers
❌ Safari
❌ Microsoft Edge (Legacy)
❌ Internet Explorer
We highly recommend using the latest versions of these browsers to get the best experience while using the extension.
Installation​
The extension can be downloaded from 3 Sources:
Using the Extension​
First, visit the Web Page that you're looking to test. Once you're on this Web Page, choose SpeedVitals from the extension list.
tip
Pin the SpeedVitals Extension on your browser for quick access!
After selecting SpeedVitals, the following interface would appear.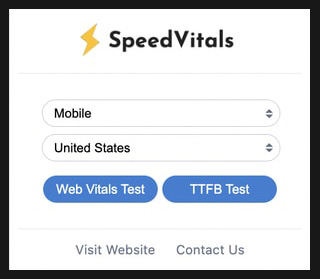 You can either perform the Web Vitals Test or the TTFB Test from the extension. For Web Vitals Test, you can also select the Location & Device.
Click on the corresponding test button to start the test.
caution
Selecting the Location or Device will have no effect on TTFB Test. The TTFB Test will run on all locations by default.